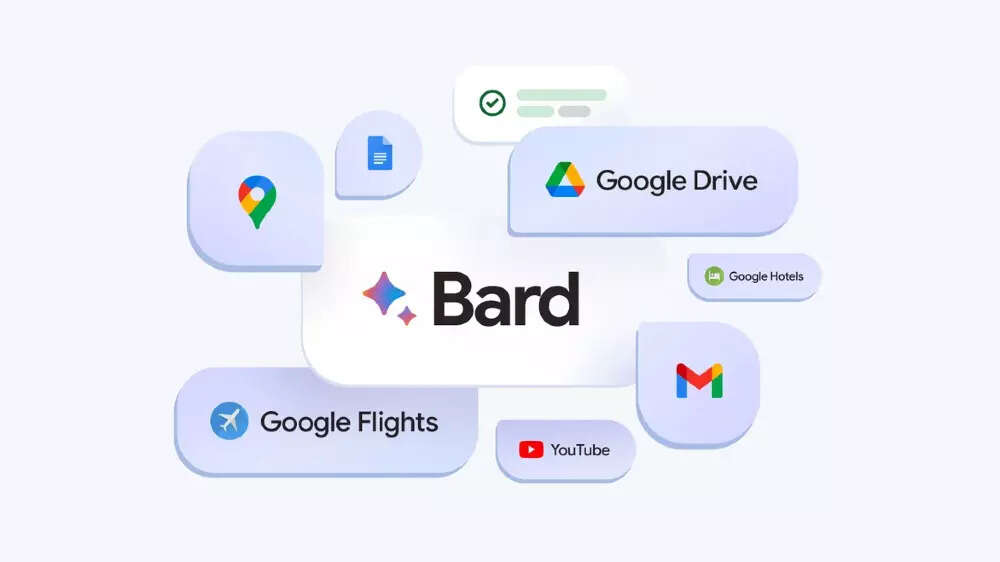 Google announced that its chatbot Bard can use generative AI capabilities to provide tailored responses by using data from the web. This ability in Search was rolled out to all users recently, allowing them to test the AI chatbot. The company has now announced that it is rolling out similar capabilities for Google apps and services, including Gmail, Docs, Drive, Google Maps, YouTube and Google Flights.
Google "Bard's most capable model yet" is integrated with all these services and will pull data from them as and when needed, depending on the input text query. The company said that Bard is getting even better at customising its responses.
"Today we're rolling out Bard's most capable model yet. Bard now integrates with Google apps and services for more helpful responses. We've also improved the 'Google it' feature to double-check Bard's answers and expanded features to more places," the company said.
Google launches Bard Extensions
Google has launched Bard Extensions that will allow find and show relevant information from the Google tools, including Gmail, Docs, Drive, Google Maps, YouTube, and Google Flights and hotels. The feature is currently available in English.
For example, if you are planning a trip to Las Vegas, a person usually has to search through multiple tabs on Chrome to check information such as date decided for the trip (in Gmail), refer to Maps to find exact location of various points of interest and see videos (on YouTube) of any particular restaurant to get a hang of its ambience.
The 'updated' Bard will find and display answers by finding these important data across all these services and provide tailored responses. Bard will also be able to pull data and provide information about hotels and flights.
When working in Drive, users can ask Bard to search any specific file, for example, a resume prepared in September 2022 and summarise it to a short paragraph personal statement.
Google highlighted that the data used will not be accessed by human reviewers, used by Bard to show ads or used to train the Bard model. Users also have the option to decide how they want to use these extensions or turn them off at any time.
Google improves 'Google it' button
Google provides a 'Google it' button to allow users to cross-check the responses provided by Bard. It now says that users can more easily double-check its answers using the button.
"When you click on the 'G' icon, Bard will read the response and evaluate whether there is content across the web to substantiate it. When a statement can be evaluated, you can click the highlighted phrases and learn more about supporting or contradicting information found by Search," the company said.
Chat collaboration on Bard
There are times when we want to share our chats with friends or colleagues. In those cases, we either take our laptops to them or provide a link so that they can access our conversation with the AI chatbot.
Google is now making this process easy. Moving forward, when you share a conversation through a public link, the receiver can continue the conversation and ask Bard additional questions about that topic in a collaborative manner.
Google is also expanding access to existing English language features — such as the ability to upload images with Lens, get Search images in responses, and modify Bard's responses — to more than 40 languages.