The
Indian economy
is gaining strength led by private consumption and public sector capital expenditure — even as global growth is losing momentum, RBI's state of the economy report released on Monday said.
"During the rest of the current decade as well as the next, global growth is projected to be lower than in the previous two decades, especially among advanced economies. Emerging economies, on the other hand, are likely to become a key engine of the global economy," the report said. The report is not the official view of the central bank but is authored by RBI staff, including deputy governor Michael Patra.
"The Indian economy remains an outlier amidst darkening global prospects. Supply chain pressures in India remain below historical average levels despite a pickup since May 2023. Our economic activity index now casts GDP growth for Q2 FY24 at 6.6%," the report said.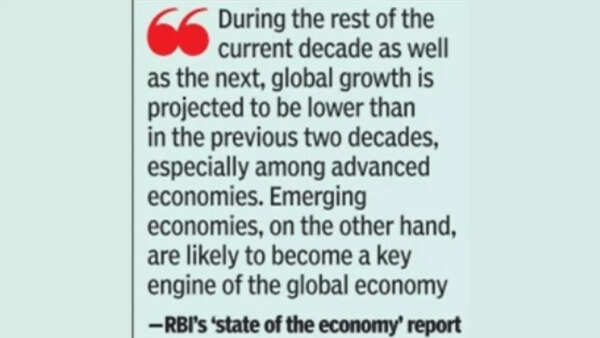 It also said that private final consumption expenditure, which is the mainstay of aggregate demand with a share of 57.3% in GDP, grew 6%. It added that the government's infrastructure thrust and 'exuberant real estate activity' has resulted in gross fixed capital formation growing by 8%, maintaining its share at 34.7% of GDP.
"Acceleration in investment activity is also corroborated by robust growth in steel consumption, cement production, capital goods production and imports," the report said.
The report has cited rising e-way bill volumes, retailers stockpiling goods ahead of the festive season, and a rise in toll collection used as a proxy for economic activity.