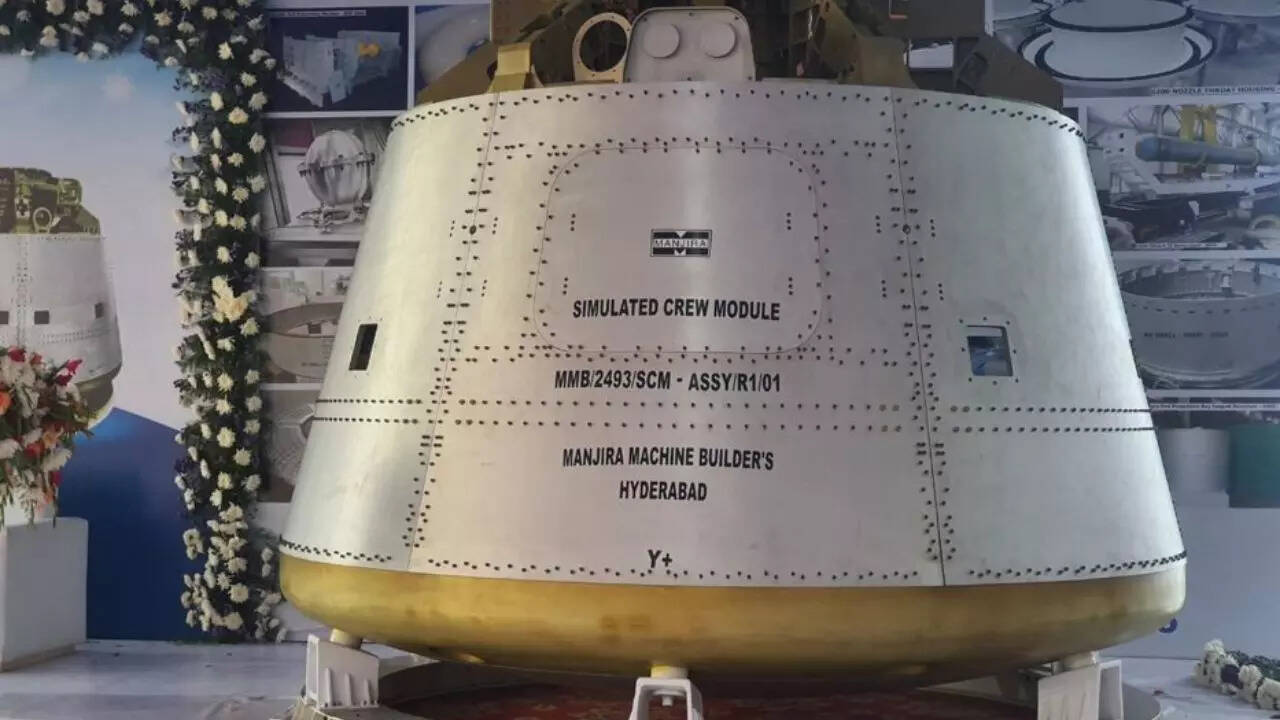 NEW DELHI: After the successful Chandrayaan landing mission and the Aditya L-1 Sun mission liftoff, Isro is all set to conduct a key test of the Gaganyaan mission to validate the crew escape system early next month. It will be the first of the four abort missions of the Gaganyaan programme. The Indian Navy's elite marine commando unit, Marcos, will be part of the recovery operations of India's first human spaceflight mission after it lands into the sea from space. Isro has already handed over the crew module recovery model to the Navy for training the crew.
The Isro team is aiming to test its crew escape system, which can be used to eject astronauts in emergencies, before undertaking a battery of other tests before the final launch phase. "Safety is the most important thing we need to ensure," Gaganyaan project director R Hutton said.
The first test vehicle mission, Test Vehicle TV-D1, will be followed by the second test vehicle TV-D2 mission and first uncrewed mission of Gaganyaan (LVM3-G1). Thereafter, Isro will conduct the second series of test vehicle missions (TV-D3& D4) and LVM3-G2 mission with a humanoid called 'Vyommitra'.
The Gaganyaan mission or India's first human spaceflight programme is aimed at demonstrating India's capability of taking a crew of two-three astronauts to an orbit of 400 km around the Earth for a three-day mission and bring them back safely to Earth, by landing in a designated location in the Indian waters, either in the Bay of Bengal or the Arabian Sea.
In a statement in the Rajya Sabha in August, space minister Jitendra Singh had informed that all subsystems pertaining to TV-D1 had been realised and the crew module integration was completed. He also added that static tests of all crew escape system motors had been completed as well as ground testing of the crew module propulsion system. Training of crew (Astronauts) was nearing completion, he had then informed.
Isro's heavy-lift launcher LVM3 rocket, is identified as the launch vehicle for the Gaganyaan mission. All systems in LVM3 are re-configured to meet human rating requirements and christened human-rated LVM3 (HLVM3).
HLVM3 consists of a crew escape system (CES) powered by a set of quick acting, high-burn-rate solid motors which ensure that the crew module (CM) along with the crew is taken to a safe distance in case of any emergency either at the launchpad or during the ascent phase. The orbital module (OM) that will be orbiting the Earth comprises the crew module and service module (SM). OM is equipped with state-of-the-art avionics systems with adequate redundancy considering human safety. CM is the habitable space with Earth-like environment in space for the crew. Currently, Isro is training four astronauts for India's first human flight mission and plans to expand the team for future manned missions.